Custom Designed Website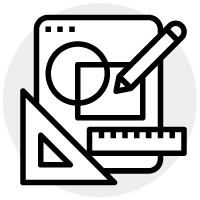 A professional custom designed website with a modern Content Management System (CMS) that gives you full control over all website content.
Stage 1: Research & Discovery allow min 1 week
At the initial discovery stage, we research different approaches and strategies for achieving our client's goals and requirements. We carry out industry analysis alongside information architecture & customer journey mapping to establish our design approach.
Stage 2: Design allow min 3 weeks
We encourage a collaborative approach and keep regular contact with clients during this key phase, which concludes with the approval of graphic representations illustrating the layout and design of the key website pages at various screen sizes. 
Stage 3: Development allow min 2 weeks
With designs approved, we can then start building out the website pages and integrating the content management system (CMS).
Stage 4: Testing & Content Entry allow min 2 weeks
We then enter the agreed amount of initial content and carry out our quality assurance tests by checking the new website at multiple screen sizes, across multiple browsers and operating systems.
Pricing guide
Additional Notes
From the portfolio:
Some recent Custom Designed Websites from our portfolio